Blessed Mother Teresa of Calcutta

Founder of the Missionary Sisters of Charity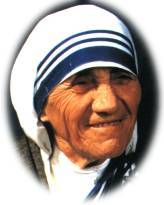 Blessed Mother Teresa placed great value on the daily Holy Hour in the presence of the Blessed Sacrament. She and her sisters depended upon this devotion to the Eucharist for the graces to accomplish their daily work among the poor. In fact, Blessed Mother Teresa attributed the success of their work and their growth in the Missionaries of Charity vocations to the many hours they spent in adoration.
In a letter to the people of St. Alexander Parish in Villa Park, Illinois, July 15, 1996, Blessed Mother Teresa wrote the following:
"I am very glad to know about the perpetual adoration movement in your parish. Thank God for His love for you - for His presence in you and the joy with which you love and serve Him in the Blessed Sacrament and in each other.
Each one of us is a co-worker of Christ - we must labour hard to carry Him to the hearts where He has not yet been known and loved. But, unless we have Jesus, we cannot give Him; that is why we need the Eucharist. Spend as much time as possible in front of the Blessed Sacrament and He will fill you with His strength and His power. Tell Him, 'Come to our hearts Lord and stay with us'. Then you will become the instruments of His love, peace and joy."
God bless you,

---
Missionaries of Charity
54 A. A.J.C. Bose Road
Calcutta 700016 India