St. Padre Pio

Canonized Priest of the Twentieth Century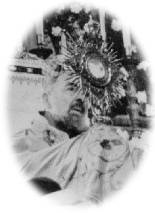 St. Padre Pio was the first priest to bear the stigmata of Christ. For fifty years of his priesthood he had an intimate union with God through the Eucharist. His greatest act in life was not the miraculous cures, healings and conversions attributed to him, but rather his service at the altar offering the holy sacrifice of the Mass where he was one with Christ crucified.
"... you will come closer to God and will place yourself in His presence for two major reasons. First, to render to God the honor and obedience that we owe Him. It can be done without His speaking to us, and without our speaking to Him because this duty can be fulfilled by acknowledging Him as our God, and ourselves as His vile creatures spiritually prostrate before Him, awaiting His commands. How many courtiers are there who frequently place themselves before our King, not to talk to Him or to listen to Him, but simply to be seen by Him so that by their assiduity they may become known as His true servants? This manner of coming before God solely to voluntarily acknowledge ourselves as His servants is most holy, most excellent, most pure and is also the utmost perfection."
"The second reason for placing oneself in God's presence while praying is to talk to Him and to hear His voice by means of inner aspirations and illuminations. ....when you are praying in God's presence, face the truth, speak to Him if you can, and if you can't, be still, let yourself be seen, and don't worry about it..."
("Remembering Padre Pio", Edizioni "Voice di Padre Pio", by permission of the National Centre for Padre Pio, Inc.)
---
ATTENTION: Julia or Mrs. Vera M. Calandra
U.S.A. National Center for Padre Pio
2213 Old Route 100
Barto, Pennsylvania 19504
Tel # (610) 845-3000
Fax # (610) 845-2666