St. Therese of Lisieux, of the Child Jesus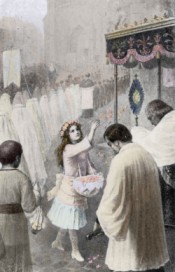 St. Therese of Lisieux chose to demonstrate her ardent love for God in little ways. In her Eucharistic adoration as a child she tells us:
"I loved above all the processions in honor of the Blessed Sacrament. What a joy it was for me to throw flowers beneath the feet of God! Before allowing them to fall to the ground, I threw them as high as I could and I was never so happy as when I saw roses touch the sacred monstrance."
While at her boarding school, Therese spoke of her closenes to Jesus in this way:
"No one paid any attention to me, and I would go up to the choir of the chapel and remain before the Blessed Sacrament until the moment when Papa came to get me. This was my only consolation, for was not Jesus my only Friend? I knew how to speak to Him; conversations with creatures, even pious conversations, fatigued my soul. I felt it was far more valuable to speak to God than to speak about Him..."
Over one hundred years ago, St. Therese of the Child Jesus found great peace alone in the presence of the Blessed Sacrament, and in her own little way became a model of how to love, trust and surrender oneself to the God who loves us.
(Story of a Soul, The Autobiography of St. Therese of Lisieux)
---
ICS Publishers
2131 Lincoln Road N.E
Washington, D.C. 20002
Attention: Brother Bryan
Tel # (202) 832-8489
Fax # (202) 832-8967
Photo courtesy of the Society of the Little Flower
www.littleflower.org
---
What's New
Site Index
---
Home
|
Directory
|
Eucharist
|
Divine Training
|
Testimonials
|
Visit Chapel
|
Hardon Archives
Adorers Society
|
PEA Manual
|
Essentials of Faith
|
Dictionary
|
Thesaurus
|
Catalog
|
Newsletters
PO Box 1237
LaCrosse, WI 54602
Phone: 608-782-0011


Real Presence Eucharistic Education and Adoration Association

PO Box 1237

LaCrosse, WI 54602

Phone: 608-782-0011

Contact Us

Internet:

www.therealpresence.org

Copyright © 2000 by www.therealpresence.org

All rights reserved worldwide.

No part of this publication may be reproduced, stored in a retrieval

system, or transmitted, in any form or by any means, electronic,

mechanical, photocopying, recording or otherwise, without the prior

written permission of www.therealpresence.org