Saint Peter Julian Eymard
Crusader Apostle of Eucharistic Adoration
of the Nineteenth Century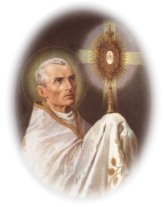 As a young priest, St. Peter Julian Eymard burned with the desire to establish perpetual adoration of Jesus in the Blessed Sacrament exposed upon a royal throne. He felt that priests, religious, and the laity should make up the Honor Guard adoring their Eucharistic Master day and night unceasingly.
"...it is now, in the Eucharist, that Our Lord wishes to enjoy His title of 'Good Master'....He wants us to dwell on His tenderness and find joy in his presence; He wants us to be drawn to His feet by sheer happiness of seeing Him."
"If we thus base our worship on love, we will come into Our Lord's presence with great confidence."
"Until we have a passionate love for Our Lord in the Most Blessed Sacrament, we shall accomplish nothing."
(Meditations based on the teachings of St. Peter Julian Eymard, S.S.S., with permission of the Servants of the Blessed Sacrament.)
---
Congregation of the Blessed Sacrament
5384 Wilson Mills Road
Highland Heights, Ohio 44143-3092
tel # (440) 442-7243
Fr. John Thomas Lane, SSS
email:
jtlanesss@blessedsacrament.com