Blessed Damien de Veuster, SS.CC.

Apostle of the Eucharist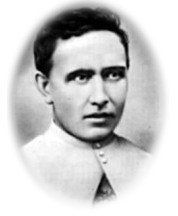 Father Damien, known the world over as the priest of the lepers on the island of Molokai, was truly an apostle of the Eucharist. This love he had for the Eucharist was transmitted to the lepers. He brought them to closer union with their Maker through the beautiful liturgies he organized, frequent Benediction, and Eucharistic Processions.
It was when he set up numerous adoration chapels that he experienced the depth of the lepers' faith and devotion. Related to the establishment of Perpetual Eucharistic Adoration on the island, Father Damien wrote to his provincial in 1888, "This is the fifteenth year we observe night adoration..., all of us lepers."
Father Damien lived for the Eucharist. It was this strong apostleship that filled the lives of the lepers. Their Eucharistic adoration was an edifying homage to the Lord. He wrote to his brother, "Without the constant presence of our Divine Master, I would never be able to cast my lot with that of the lepers."
---
ATTENTION: Father Gabriel, S.S.C.C
Sacred Hearts Community Missions
3 Adams Street Box 11
Fairhaven, Massachusetts 02719-0111
tel. # (508) 993-5010