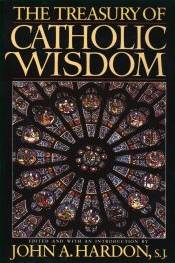 The Treasury of Catholic Wisdom
Introduction
The Treasury of Catholic Wisdom is a comprehensive anthology of the outstanding Catholic literature from the first century to modern times. Mystics and martyrs, philosophers and theologians, poets and prose writers are quoted at length and in depth. They are truly representative of the spirit and substance of Catholicism in its paradox of phenomenal stability and versatility over the centuries.
Unlike ordinary anthologies, this is no mere collection of quotations, or even merely an omnibus of great religious thinkers. It is a Catholic library in miniature, or a one-volume microcosm of what the Church's great minds have thought and said since the apostolic age.
The editor of this volume had a definite plan or purpose in mind and a corresponding set of themes to fulfill the plan. Certain authors were then chosen to express these master themes, and always in view were the intended readers in what is certainly the age of martyrs today.
The plan of this volume is to offer a clear understanding of Catholic Christianity as
a divinely established society of believers who are loyal to the Vicar of Christ, the Bishop of Rome, as their visible head.


a coherent system of belief that not only is rationally credible but has also produced the most profound and convincing body of religious knowledge in the history of human thought.


a way of life that satisfies our deepest desire for happiness, while reminding us to deny ourselves, take up our daily cross, and follow in the footsteps of Jesus Christ.


a promise of eternal beatitude in the life to come, provided we are faithful to the inspirations of grace that we receive from God.
Certain themes were carefully selected to achieve the foregoing plan. They are at once basic to all true literature and distinctive of authentic Catholic writers since the rise of Christianity.
There is a God who exists from all eternity and by whom everything else has come into being.


He created man to know, love, and serve Him in this life, and by this means to reach heaven and thus return to the God from whom we came.


Everything else in the world has been made by God to help us attain our heavenly destiny.
We are therefore to use creatures according to this loving will of God, knowing that nothing that enters our lives is ever meaningless or apart from this divinely ordained purpose. Everything, no matter how painful or apparently trivial, is part of God's mysterious providence. We make mistakes, but God never does. In His divine plan, even our sins are meant to lead us closer to Him by making us more aware of our weakness, more humble in asking for His help, and more grateful for His patient love.
We are not naturally prone to choose what God knows is good for us, or avoid what hinders our way to heaven. It is a constant struggle with our sinful inclinations. That is why Christ gave us the Mass and the sacraments, told us to pray, and provided the Church's guidance on the "hard road that leads to life" (Matt 7:14).
The authors chosen for the Treasury represent every period of the Church's passage through time, from the age of the Apostles to the present day. They are men and women, bishops, priests, religious, and the laity. They are persons whose native talents were elevated by the supernatural light that God reserves for those who are most submissive to His will.
They are also persons who discovered the reality of Christ's promise: "You will learn the truth, and the truth will make you free" (John 8:32). They have much to teach us about the meaning of true liberty. This is especially needed in our day, when everyone is searching for freedom and yet so many are living in slavery.
Not on principle, but as a matter of policy, no papal documentation is cited in these pages. One reason was the obvious fact that the Bishops of Rome are in a category of their own, with supreme teaching authority in the Church of God. It seemed more appropriate not to put them on a par with the rest of the faithful, even with the intellectual giants of Catholic history.
This volume was written for all who wish to know what is true Catholicism, not only in the Church's official teaching but in the literature of her outstanding members.
Ours is the age of heroic Christianity. Some would say there have been more Christian martyrs since 1900 than in all the preceding centuries. It was not rhetoric but plain realism that inspired the Second Vatican Council to tell the faithful they should be ready to suffer for Christ, by a bloody martyrdom if they receive this precious grace, and certainly by a bloodless martyrdom in the secularized culture of the modern world.
On the way to the Mount of Ascension, Christ promised His followers: "You will receive power when the Holy Spirit comes on you, and then you will be my witnesses", literally my martyrs "to the ends of the earth" (Acts 1:8). So it was in the early Church, and so it has been ever since. Those who wish to proclaim the true Christ by word and example must expect to pay dearly for their profession of faith. Who would doubt that today there are "places where Catholic Christians are thrown to whatever is the equivalent of lions in the Roman arena"?
But such courage of will is born only from deep conviction of mind, when a Catholic knows that the Church founded by Christ and built upon Peter is true. In order for the mind to be so convinced it needs to be enlightened, which the editor hopes will be the case for readers of The Treasury of Catholic Wisdom.