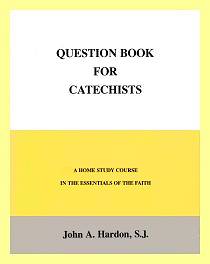 QUESTION BOOK FOR CATECHISTS
The Question Book for Catechists is a companion volume to The Catholic Catechist's Manual and is to be used by those who are taking a home study program, training to be a Catechist.
There are over two thousand objective questions in this book. This means that each question can be answered verbally without requiring a written response. The scope and range of the questions test your knowledge of the following:
What does the Catholic Church teach about Christian faith, morals and worship.


Why we act in accordance with what the Church tells us is the mind and will of Jesus Christ for those who believe in Him.


How we are to share our own faith convictions with others.
Do not guess at the answers. The main purpose behind these questions is not inquisitive but instructive in nature. In order to profit from your answers, be sure to first think through what you are being asked. There is great wisdom in asking yourself, "What does this question mean?" Answer only after some reflection.
Rather than guess, either come back to the question, or leave it unanswered. Then you might ask your mentor to explain what the question really means.
Follow the directions that will be given to you on submitting your answers and making inquiries, either about the questions or about any of the reasons why a question should be answered in a certain way.
It is a good idea to begin every lesson with a prayer, not only to answer the questions correctly, but also to especially obtain the light you need to understand the revealed truths you are learning.