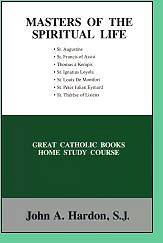 Masters of the Spiritual Life
Introduction
This is the first home-study course offered to introduce The Catholic Lifetime Reading Plan.
There are one hundred and four authors in the Reading Plan. Together they have published some four thousand books. If we are to begin to scale the mountain of literary wisdom which these one hundred writers represent, we have to make a choice.
Selections were made from the writers, not arbitrarily, but in the hope that they would appeal to as wide a readership as possible. These selections are found in the companion volume, Treasury of Catholic Wisdom, by the author of the Catholic reading plan.
In this way, those taking the home-study course have a handy one-volume source of lengthy selections from these masters of Catholic thought. It will serve as an introduction to further similar correspondence programs on the Great Catholic Books. It will especially inspire you to do further reading on your own or in discussion groups with others.
Although the authors studied in the present course differ widely, there are some basic values which they have in common. Each lesson, therefore, will have certain features.
Importance of the author in Catholic literature


Historical setting in which the author wrote


The focus of the lesson which is here being studied


Objective questions based on the particular selection in The Treasury of Catholic Wisdom