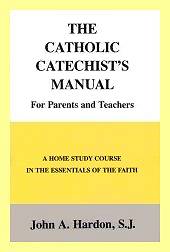 THE CATHOLIC CATECHIST'S MANUAL
The Catholic Catechist's Manual is intended to assist those who are training to give religious instruction in the Catholic faith. Its purpose is very practical: to provide a systematic method of preparing persons to teach the fundamentals of the Catholic religion. Thus parents, teachers in Catholic schools and parishes and others will find here a useful home study program.
The Manual may be used with any standard Catholic catechism. Among others, the author's Pocket Catholic Catechism is specially suited as a basis for the Manual. Accompanying the Manual is a Question Book for Catechists which follows the sequence of contents in the manual. While the Manual can be used independent of the Question Book, the latter is actually part of a fully developed program for training Catholic Catechists by correspondence study.
The first three chapters of the Manual give personal and practical information with which every Catechist should be familiar. The rest of the chapters follow the familiar order of faith, sacraments, commandments, and prayer.
There are thirty-six chapters of unequal length which require the use of the Modern Catholic Dictionary. In the dictionary are some two thousand Catholic terms clearly defined, that will give the theological and historical background not available in the Manual.
In using the Manual, keep in mind that its purpose is to direct you to become a good, indeed, a better Catechist. Other sources, like the pocket catechism and dictionary will be needed. What the Manual will do is teach you how to share your own Catholic faith more effectively with others.