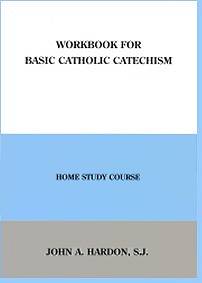 BASIC CATHOLIC CATECHISM WORKBOOK
Welcome to the Home Study course in basic catechetics. I am confident you will find the experience not only personally satisfying but spiritually enriching. Unlike other courses you may have taken in religion, this one will be different in several ways. There will be no classes to attend and no teacher to instruct you personally. But you will have lessons to take and everything possible will be done to encourage you to learn more about your faith. The reason, of course, is that the better you understand what the Catholic Church teaches, the better you will be able to share this teaching with others.
Your textbook for the course is the Basic Catholic Catechism. Like all good catechisms in the Church, it covers three main areas of Catholic doctrine, namely,
what we are to believe, the Creed,

how we are to practice what we believe, the Commandments,

and where we can obtain the light and strength we need to do the will of God, the Sacraments and Prayer.
This workbook is meant to help you use the textbook profitably. You might say the workbook is your teacher and the catechism tells you what you should learn to be a good catechist.
There are sixteen lessons to the course. For each lesson, the work-book will provide you with the following:
THE FOCUS: What you are specially to look for in the lesson. While everything in the study assignment should be learned, it is good to know beforehand what the key facts or ideas are on which the rest of the lesson depends.
SPIRITUAL PRACTICE: One or more suggestions for putting what you learn into practice in your daily life.
VOCABULARY: Important words and terms in each lesson will be listed for you to look up in your Modern Catholic Dictionary. This is to provide you with a clear understanding of the Church's language so that you, in turn, will be able to better explain the Catholic faith to others.
QUESTIONS: There are questions for each lesson found in the Question Tablet that you are to answer after you have studied the assigned material. Return these questions to Inter Mirifica. Your answers, corrected and graded, will be returned to you.