Father Benedict Groeschel, CFR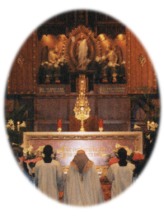 Father Benedict Groeschel, CFR, internationally known for his writing, lectures, and retreats is a profound lover of the Eucharist. He is a modern-day advocate of Perpetual Eucharistic Adoration. Through his ministry and communications, he encourages all to grow closer to Our Living God through the habits of daily prayer, reception of the sacraments and adoration of the Blessed Sacrament.
"To increase our devotion with mystical sign, the consecrated Host, is exposed in a monstrance. The Host mysteriously fulfills Christ's promise of His presence....
'This is my Body ... this is my Blood.'"
"The Church invites you to adore Him in His Eucharistic presence as a continuation of His presence in the Mass."
"Silence, reverence, gratitude, loving devotion can flood the soul if one is blessed to do this for an hour."
(Praying in the Presence of Our Lord, by Father Benedict J. Groeschel, C.F.R. with permission of the author.)
---
Archdiocese of New York
Trinity Retreat
1 Pryer Manor Road
Larchmont, New York 10538

tel. # (914) 235-6839
or
(914) 632-3743